I recently worked as a stand-in on a television pilot for an actress who was a couple of inches taller than me.
Before I started the job, I knew I would have to wear heels at all times on the job to try to match her height. But working in typical stiletto high heels for 12+ hours a day is not ideal. Most high heels don't offer good support for your foot and can leave you in pain. And stilettos are not the safest shoe to wear while working on a set.
In anticipation of a job in which I would have to wear heels regularly, I purchased a pair of high-heeled sneakers from Skechers last year. I finally got to try them out and wanted share my review of them.
About Heels
There are several different types of heels on women's shoes, but for the purposes of this article I will go over the basics: stilettos vs. wedges.
With stiletto-style heels, the heel is thin and pointy and the middle of the shoe does not touch the ground. With wedge-style heels, the heel runs from the back of the shoe throughout to the middle or front of the shoe.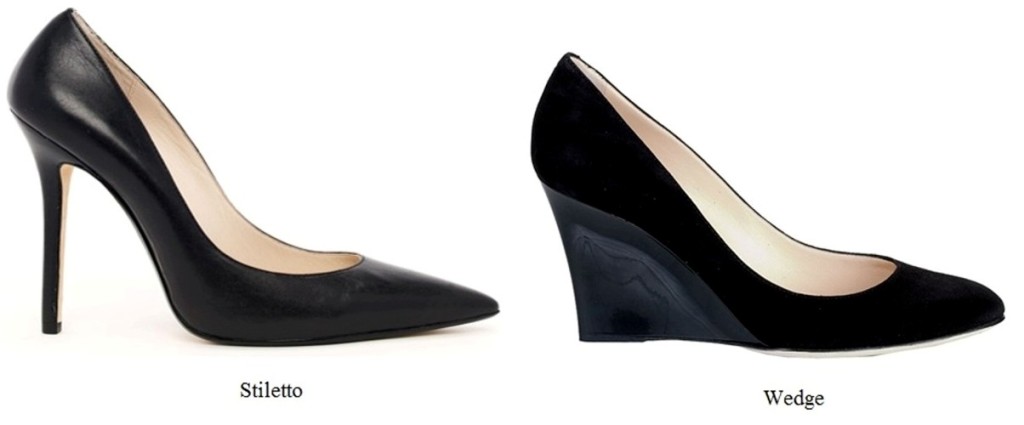 I have found that wedge heels are more comfortable to stand in for long periods of time because your foot is supported better overall than when you are wearing stilettos. Also, I feel more secure walking around on sets wearing wedges, as a stiletto can get caught on cords or rugs and cause you to trip. And if you wear them outside, you will sink into the grass!
The Shoe
Skechers Women's SKCH Plus 3 is a line of high-heeled shoes available in different styles described as a "hidden wedge fashion sneaker" or a "hidden wedge boot." They have a 3-inch wedge heel that is concealed within the shoe. I like that the heel blends in, because I didn't want to draw attention to the fact that I had to wear high heels to be tall enough to stand in for my actress.
The line has shoes available in many options from sneakers to boots, high top to "shorty" styles, laces to Velcro closures, and a rainbow of colors. Currently over seventy styles are offered on the official Skechers website.
My Review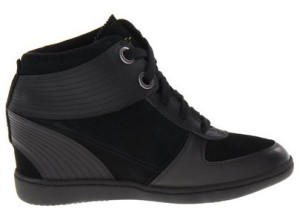 My Skechers SKCH Plus 3 shoe is the "Deco Fashion Sneaker," a simple black "shorty"-style sneaker with black laces. They are no longer available on the Skechers website, but I found them still for sale on Amazon.
I wore these consistently almost every day (minus weekends) for about two weeks. I would bring them with me and change into them on set. Even though they were pretty comfortable, I tried to give my feet a break from heels as much as possible and would not wear them during my commute. On other jobs, I've brought a pair of stilettos to wear intermittently throughout the day only for scenes where my actress was wearing heels. But as I mentioned earlier, I was going to have to be wearing heels at all times on this job.
Here is my review after wearing my high-heeled sneakers:
Pros

More comfortable standing in than stilettos
Easier to walk in than stilettos
My feet "lasted" longer — more time ache-free each day than in stilettos
Quicker recovery from aches after taking them off compared to stilettos
Helped me maintain good posture while standing in
Looked stylish
Not obvious that there is a heel built in to the shoe (did not draw attention to the fact that I was shorter than the actress I was standing in for)

Cons

Somewhat heavy to carry while commuting (because I brought them with me to change into on set)
Lacked good arch support
To solve the arch-support problem, I purchased Dr. Scholl's DreamWalk Comfort Insoles. I had never used these before, but there was a money-back guarantee on the purchase through Dr. Scholl's so I figured I'd give them a shot. I was glad I did — they worked out great. They offered much more support for my arches and my feet felt significantly less achy by the end of the day.
In Conclusion
I have never found a high-heeled shoe that was completely comfortable all day. But my feet were more ache-free for longer wearing these high-heeled sneakers compared to wearing stilettos for most of the day. And my feet recovered more quickly after taking them off at the end of the day. Overall, I was very happy with my experience wearing these shoes consistently on a stand-in job.
I would definitely recommend these shoes to other female stand-ins. And I'm considering purchasing a pair of boots in the SKCH Plus 3 line for the winter!
Have you found a comfortable high-heeled shoe to wear for long periods of time while standing-in? What do you do to help your feet recover from wearing high heels on a stand-in gig? Any other related products you would recommend? If so, please comment below!