Have you worked as stand-in on a film or television set in the U.S.? If so, chances are you've been paid for work by Sessions Payroll. It has recently been discovered that Sessions Payroll has failed to report employee income to Social Security and the IRS.
What Is Sessions Payroll?
Sessions Payroll is a company that provides payroll services for film and television productions. Stand-ins and background actors who work on productions that use Sessions Payroll receive their pay checks and W-2's from this company. Other names shown on W-2's from Sessions Payroll include:
Firsthand Productions Inc.
RE Productions
Century Employer Organization LLC
Vast c/o Sessions
Tri-State c/o Sessions or Tristate Sessions
What Is the Problem?
A number of SAG-AFTRA members who have checked their records have found that their Sessions Payroll wages are missing from their Social Security records and IRS records. They have also found that their Sessions Payroll wages totals on their AFTRA H&R record are lower than the amount of actual pensionable wages they earned.
What Are the Implications?
If these records are incorrect, your retirement benefits and eligibility for health insurance and pension could be affected.
If you don't get credit for all the money you've earned in your working years, you could receive lower payouts when you begin collecting Social Security benefits and pension payments.
You would not have been notified of this error by Social Security or by the IRS if your Sessions Payroll earnings were not reported.
What Should You Do?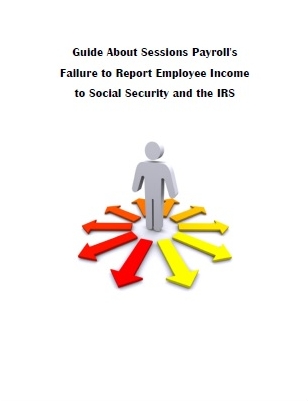 A guide has been written to raise awareness of this serious issue with Sessions Payroll.
The Guide About Sessions Payroll's Failure to Report Employee Income provides information about how to check your records, what to look for to find out if you have a discrepancy in your records, and how to get your records corrected.
View and download the guide here:
www.facebook.com/unionfinancials
Or click here to download the guide directly.
More Information
The topic of Sessions Payroll reporting issues is covered in Episode 11 of The Acting Income Podcast.
Click here to listen to Episode 11 of The Acting Income Podcast.
Have you had a problem with Sessions Payroll? Have you received a W-2 from Sessions Payroll with a different name shown on it other than the ones listed above? If so, comment below.