Stand-In Central is your resource for standing in on film and television productions.
Home of The Stand-In Handbook and The Callsheet Cheatsheet, Stand-In Central offers a solid foundation in how to be an excellent and effective stand-in.
At Stand-In Central we give you an overview of the job and share what you might expect if you've just been hired as a stand-in for a film or TV show. Our renowned Tips & Tricks Blog is updated weekly with great stories, lessons, humor, and advice for being a really great stand-in, and our Store is the go-to for all of your necessary stand-in gear. Should this site not answer a question you have, ask Stand-In Central and our volunteer contributors (all professional stand-ins) may answer your question in a future blog posting!
★ In a rush? Download The Stand-In Handbook, our PDF ebook about standing in!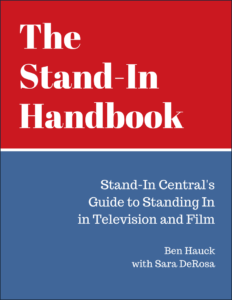 EXPANDED! Add our PDF ebook to your cart to start learning rich insights about standing in!
Click here to learn more about The Stand-In Handbook and click here to learn more about The Callsheet Cheatsheet.