Soon after publication of this entry to Stand-In Central's Tips & Tricks Blog, the Internet Movie Database redesigned its website. While the look of the IMDb has changed, the general information below should still help you toward adding your stand-in credit to the website.

– The Editor
From time to time, you may find your job as a stand-in worth noting.  The Internet Movie Database is a website where you may be able to add a credit for your work as a stand-in on a TV show or film.  Here we'll go over how to add your stand-in credit to the behemoth website known as "The IMDb."
In general, it is fairly easy to submit a stand-in credit to the IMDb.  We're going to outline steps for adding a TV credit since for adding a TV credit, there are a few more details you need to know than for a film credit.
In order to add a stand-in TV credit, it's helpful to have the following information available:
Your IMDb login (register for free if you don't have a login)
The name of your project
The season number of the TV production you stood in on
The episode number of the TV production you stood in on
The professional name of the actor for whom you stood in
We're going to assume that you've already registered for your free IMDb account.  If you haven't, first register then read on.
 
Steps for Adding
an IMDb Stand-In Credit
1. Log in to your Internet Movie Database account.
In the upper righthand corner of the IMDb website, you'll find a Login link.  Click it and log in.

2. Do a search for your project from the IMDb search box.
After you've logged in, use the search box at the top of the IMDb page to type in the project on which you stood in.  Here we're going to search for the 2009-2010 TV show Mercy.
You may have to search through a few different entries before finding your exact project.  When you find your project, click on it to bring up its page.
3. Click on the season in which you worked.
Mercy is currently in its first season, so here we'll click on "1" in the Seasons section.

4. Scroll to and click on the episode on which you worked.
Usually you will need to scroll down the episode list for a season in order to find your episode.  If you worked on an episode, say, yesterday, your episode may not be listed on the IMDb yet.  In general, IMDb episodes in a current season are posted within a few weeks of production, so check back in a week or so to see if your episode is posted.
(If you're trying to post a credit in a prior season, you may have some trouble getting the credit accepted.  Check the IMDb Help section on "Adding data" for guidance.)
If your episode is posted, click on the title of the episode.

5. Click the Update button at the bottom of the Episode page.
Scroll to the bottom of the episode page and you will find a yellowish Update button.  Click on it to go to the page from which you'll start your credit submission.
6. Add 1 credit to Other Crew.
On the IMDb, the job of stand-in is counted as Other Crew.
On the Update page, in the first section titled "Cast and Crew," scroll to the bottom of the section and find "Other Crew."  From the dropdown box for Other Crew, select "Add 1 credit."
Once you've selected "Add 1 credit," scroll to the very bottom of the page and click the Continue button.
7. Fill out the form with your Name, your Occupation, and "stand-in" in the "or" box.
When filling out this form, there are some things you need to know.  First, when entering your name in the Name section, enter your professional name in the form of Last Name, First Name.
In the Occupation section, from the dropdown box that reads "Choose," select the last option which reads "Other (use box below)."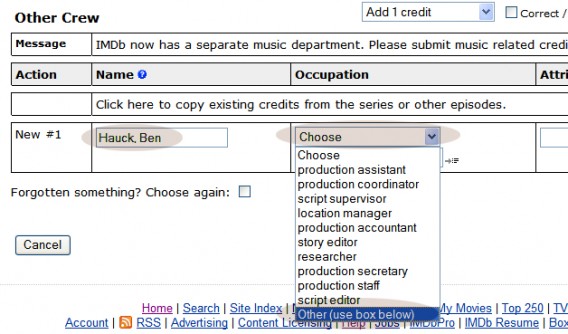 In the "or" box (that is, "the box below"), use the little icon next to the "or" box to scroll to select the job of "stand-in" from the list of other jobs.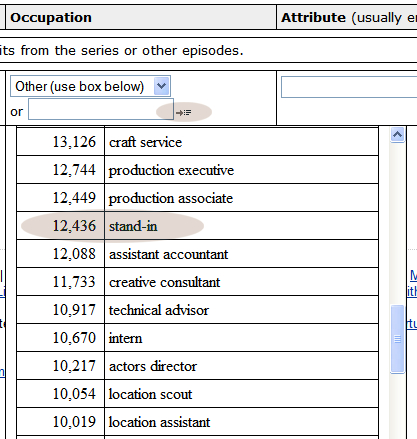 Alternately, you can enter the following in lowercase and with the hyphen:
stand-in
The little icon next to the "or" box lists a number of different forms of the job of stand-in.  On this episode of Mercy, I was a utility stand-in, standing in for a number of different principal actors over several days.  By clicking on the little icon and using the alphabet buttons, you find that the IMDb has a classification under U for "utility stand-in."  Select what's the most appropriate classification for your job or simply type it in the "or" box in lowercase.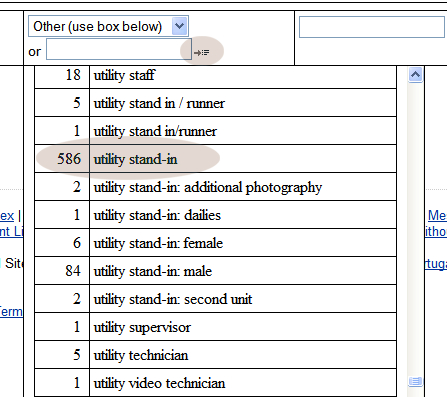 Also, if I stood in for a particular actor, say, for an entire episode, write "stand-in" then add a colon and add the actor's professional name:
stand-in: John Doe
If you don't follow this guidance, your credit may be rejected by the IMDb, so heed the advice! 🙂
In moving forward, let's submit as a utility stand-in.  Click Continue to move to the next page.
8. Finish your submission.
Once you've clicked Continue, the IMDb we take a quick look over your submission and make recommendations for your submission.  If things are good, you will see a green box reflecting your proposed update.  If you see a different color, maybe you've formatted something in a way the IMDb doesn't like, or maybe it's confused which person actually worked on the episode given a number of actors with the same professional name in the database.  Address these issues the best that you can and follow its instructions for correcting your submission.
Once you're fine with your submission, click Finish.

9. Submit your submission.
While it may seem a bit counterintuitive, after you've clicked Finish on your submission, you still need to submit your submission.  After you've clicked Finish, you'll be taken to a page telling you to click Submit.  Click either of the two Submit buttons and you're done for now.

After you've submitted, you'll get a Thank You page, and an email from IMDb Support will go to the email address they have on file.  This will include an update receipt number should you need to reference your submission in the future.
Updates to the IMDb are not immediate.  In fact, it may take several weeks before your submission is accepted.  You will not be notified whether your submission has been accepted or rejected, so you will want to check back in a week or two to see the progress of your submission.  Check the IMDb Help section for guidance on when to submit again if it appears they are rejecting your submission.
There you have it!  If you found this entry to the Stand-In Central Tips & Tricks Blog helpful, post a comment below!