After publishing our interview with Cape Fear stand-in Judith Fitzsimmons, Judith's husband Emmett encouraged Sara Rogers to contact Stand-In Central.

Sara was a stand-in on all five seasons of the original television series Miami Vice.  What follows is our interview with her.  Have a read!

– The Editor
SIC: Hi there!  First off, what's your name and what do you do?
SR: My name is Sara Rogers. Besides being a union member in SAG and AFTRA for more than twenty years, I teach acting techniques for the camera at the Acting School of South Florida in Hollywood, Florida.  I also hold a Florida real estate license.
SIC: You stood in on the original television series Miami Vice. For whom did you stand in on the series?
SR: My main job as a stand-in was for Saundra Santiago, the character of Gina Calabrese on the show. As the show progressed I stood in for many guest stars of the week–Sheena Easton, Elizabeth Ashley, and one of my all-time favorites, Rita Moreno.
SIC: How did you land this stand-in job?  Were you in the union?
SR: Miami Vice was my second stand-in job. Before then, I stood in on a movie of the week.  The casting director for Miami Vice at the time, Dee Miller of The Casting Directors, called me to see if I would be interested.  At that time I was a non-union actor.
The first season, director John Nicolella handed me sides and I was so excited since this would mean my SAG card.  However, they cut the scene even before it was shot because of time constraints.  In the third season, Eddie Olmos insisted that I respond to his question he asked me in the squad room of the OCB [Organized Crime Bureau]. That one line was my SAG Card.
In addition to standing in, most of the regular stand-ins, me included, also worked in the OCB as the other detectives in the squad.
SIC: That's fantastic you got your SAG card from an upgrade.  That must have been thrilling! Though shooting Miami Vice all over tropical South Florida must have been daunting.  What did its locations demand of you physically as a stand-in?
SR: Shooting in the Everglades at night was always a challenge: the pitch black of night with sounds of creatures howling, or chirping crabs, and you couldn't see them, only hear their calls letting us all know we were on their land.
Flashlights were the rule, not the exception–we all carried them, everywhere. The mosquitoes were large and our callsheets noted dress codes, which were long sleeves and long pants. Bug repellent was handed out to everyone, and when the night would blast into morning with the brilliant sun from the east and the dew was visible on the greenery and the humidity the highest of the day just before the sun has a chance to dry it up, "It's a wrap" couldn't come soon enough.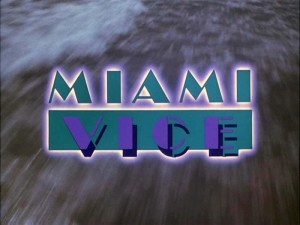 Other challenging locations for me were the water/boat scenes. The entire crew would be on a barge–cameras, sound, lighting, DP, director, stars etc.–and we would be five to fifteen miles from land. Even a bathroom break had to be coordinated, as the smaller boats were there for transport, transporting props, people, lighting gear, etc. Your job was to be mindful since if you were needed, you needed to be on the barge.
SIC: Was the Florida weather much of an issue for you?
SR: Personally, I love the summer in South Florida.  The humidity only gets to me once in awhile, and that's when you see that there are no tree branches moving and you know that when you walk out of your air-conditioned home the heat is going to hit you like an extremely hot sauna. But for me even that is preferable to the freezing cold of our few winter days.
It really strikes me funny that no one thinks of South Florida as cold. People usually complain about the heat, and the humidity. When it rains here we can have torrential or sun showers.  It's part of the tropical charm.  However, we Floridian's go into a freeze mode when it gets 40, 50, or 60 degrees with no sun shining.
Arriving on set at 5 or 6 a.m. in the winter, on those few cold days, you would see the entire crew with hats, jackets, sweaters, and I personally would wear thermal underwear to stay warm. And as the day progressed, the layers would be removed.
SIC: What were some of the more exciting stand-in opportunities you had on the show?
SR: One exciting opportunity I had was riding in an airboat across the Everglades. I had always wanted to experience an airboat but never took the time to drive to the Everglades to do it. And I got to ride more than once. It was one of those "chilly, not freezing" days in South Florida and we all wore lightweight jackets. The wind, nature, and the ride were outstanding. Later in the day, when we were back on land I took photos of the sunset from a small man-made bridge.  It's a glorious memory for me of that day.
I also loved going up in a helicopter as a photo-double for Rita Moreno. She was hesitant to do it, so not only did I have a fabulous ride in full costume but I was paid hazard pay as well!
SIC: That's pretty exciting, Sara!  What was the overall vibe on the set for this action-packed series?
SR: The vibe on the set was a family atmosphere; the crew and cast knew each other well. When in the studio, we were home, but out on location was another matter. No matter where we were there were always police surrounding the set.  Our personal belongings had to be left on a street, on the beach anywhere we were, and as a family, no matter what, we watched each other and our belongings.
SIC: How particular was the stand-in job? Did you have to recreate very specific blocking, or were you more often just standing or sitting in?
SR: The job was quite particular.  All stand-ins had to watch the rehearsal and note the blocking (of course it's marked) and walk the walk. To break up the routine of just standing there getting lit, some of us would do the dialogue as we hit our marks.
SIC: Were you ever asked to photo-double or hand-double on the show?
SR: I was a hand model more than once. Killer's hands, Homeless Woman's hands, … all these inserts had to be done slowly and typically with second-unit cameras.
SIC: So you stood in, hand-doubled, played a detective, and even got a line.  How did the experience standing in on Miami Vice, and working with so many famed actors, affect your life? Would you do it again if you could?
SR: I would do it again if I could.  The life lessons the show taught me enhanced me as an actor. And it showed me that people are people and we sometimes treat stars differently, but at the end of the day if you take everything away they are just like you and me. They bleed red, have insecurities and joy, heartache and cholesterol. They are people.
Being a stand-in allotted me the opportunity to watch and learn. I would stay even after I was wrapped to see the stars work. It was at this time a great realization came. I saw stars re-reading their sides right before getting on their mark, walking through their blocking prior to going to hair and makeup and asking all types of questions when they didn't understand the director's input. This taught me we are all human and make mistakes, and if you are unclear what the director wants, that it's okay to ask.
Rita Moreno was with us an entire week, and I found her to be one of the most generous actresses I have ever met. She was cordial, spoke about herself, and gave everyone she met the time of day. One beautiful soul. And for me being her stand-in, I was privy to watching her hit her marks, deliver her lines, and ask questions when she wasn't clear what the director wanted. What a great education.
SIC: I understand Miami Vice has fan conventions even to this day. Have you ever attended one?
SR: There was a 20th Miami Vice Convention in Miami at the Alexander Hotel on Miami Beach in 2004. I was invited, as were the entire cast and crew. On the first night of the convention, we all watched the pilot episode.  I couldn't believe it: the fans were amazing, they knew the dialogue, names of each show, and who starred in it. The impact of Miami Vice was worldwide. Fans came from France, England, and of course the USA. Leaving the convention that night, I ran into and spoke with Tom Brokaw of NBC News.
SIC: That's quite a trip!  Are you still in touch with any of the people from Miami Vice?
SR: I see a lot of people from Miami Vice. Janet Richards in particular, who stood in for Olivia Brown–she and I see each other at SAG-AFTRA functions and we did a job together a few months ago. The crew I see everywhere when I work. Running into anyone from the show warms my heart. Last month it was a crew member, Ross Jones, who let his buddy know that because I am in front of the camera, I do the hard work.
SIC: That's such a nice thing to say.  What are you up to now?
SR: I still go out on castings–one never knows when the home run will arrive. I also teach in Hollywood at the Acting School of South Florida and hold a real estate license as well.  At times I audition for theater. Since the theater is so demanding of your time, I only do this when I know my schedule is slow.
SIC: Anything else?
SR: Yes!  My new venture will be reading audio books.  I cannot wait to get started. I love teaching other actors and do my best to dispel the myth of "perfection" at the audition or on the set. I love being in the studio doing voiceover work. But my greatest love of all is music. And before you ask, I love all music. From classical to hip-hop …
SIC: Okay, I believe you!  You love all music! Thanks for the interview, Sara!
SR: No, thank you!
Sara Rogers has worked in and around the South Florida film and stage industry for more than 20 years in numerous capacities including teaching, coaching, casting, writing, and talent.  Find her on Facebook at http://www.facebook.com/sara.rogers.568.