For its July 2022 issue, Empire Magazine ("the movie magazine choice of Hollywood's elite") ran an in-depth featured article about the work of stand-ins!
Although the feature is not available online, the print version of the issue is now on sale on GreatMagazines and on Pocketmags. The feature includes photos of many of the stand-ins interviewed, including some behind-the-scenes shots. Among the stand-ins interviewed for the piece was Stand-In Central editor, Ben Hauck.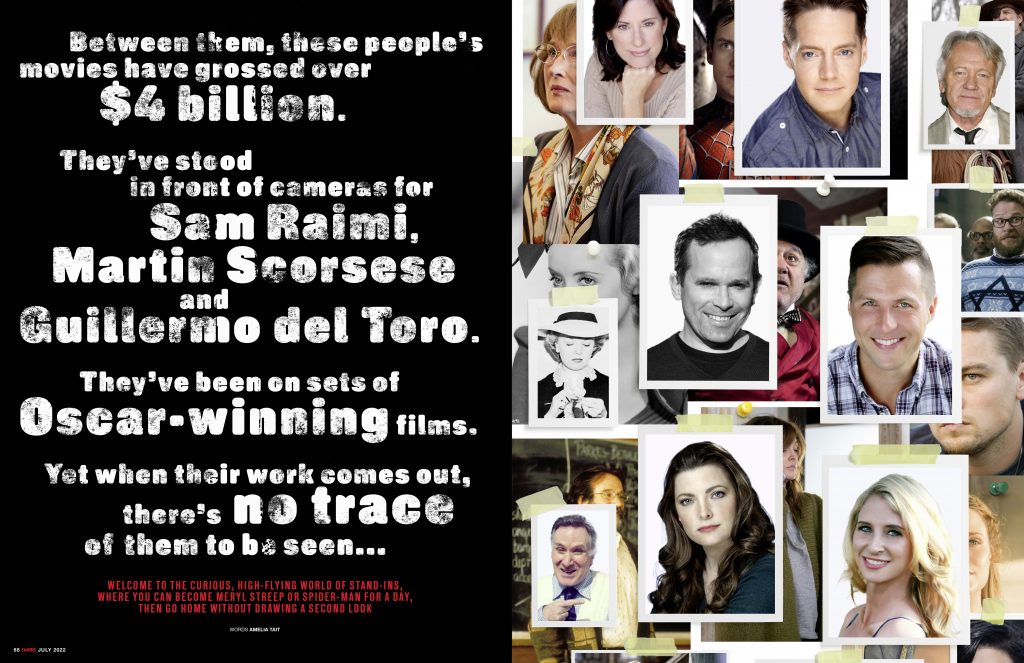 The Article
The article covers many important topics — and "occupational hazards" — that stand-ins confront in their professional work, attempting to answer the question:
How does it feel to do so much work for so little glory?
Lack of Crediting for Stand-Ins
From the start, the feature covers the upsetting reality many stand-ins face: they work over an entire film yet often do not get credited for all of their professional work.
As described in the piece, that professional work "involves rehearsing, blocking, and sometimes learning actors' lines." As detailed later, "A stand-in often begins their day watching actors rehearse — they'll take notes on where their actor moves so that when they leave for hair and make-up, the stand-in can recreate the routine. […] The blocking stand-ins learn is occasionally elaborate, but other times, the job is literally about standing still." Apparently, stand-ins do more than just stand in place on a set, but they perform various important duties on which the production relies in timing and setting up shots.
One stand-in shares, "[I]t can be frustrating to 'put my blood, sweat and tears into a job' and then not be listed in the final credits."
Adult Age of Stand-Ins Can Permit Productions Longer Production Days
Stand-ins are frequently hired not just for their appearance but also for the value their age can bring a production.
For example, in the case of productions with young child actors, adult stand-ins of similar height can afford productions longer work hours because child actors are subject to employment laws that limit their work hours.
So, in hiring an adult stand-in, not only can a production rely on the experience of such a professional, but also a production can work longer and not be limited to the working hours of its child actors.
Privacy Issues for Stand-Ins
According to the article, several stand-ins declined interviews for the piece, citing privacy and that they "dislike the spotlight."
Although many may believe stand-ins are actors by trade, in fact, the article disputes this belief, asserting, "many stand-ins don't want to act." The feature mentions that "numerous stand-ins said health insurance and pensions are more stable than as a jobbing actor constantly seeking work."
Given that not all stand-ins are actors, and given that not all stand-ins are open about their private lives, there are apparent disparities between what an actor and what a stand-in might expect or tolerate in their workplaces. It may be that working as a stand-in might be more akin to working as a traditional employee in a traditional business, where the employee's motivations are primarily earning money, health insurance, and retirement benefits, without the scourge of necessary intimacy between coworkers or sharing private aspects of themselves in the workplace.
Safety Issues for Stand-Ins
As reported in the feature, "the safety of stand-ins is not always a priority."
There are basic safety issues mentioned in the article, such as stand-ins having to hold physically "draining" positions. One stand-in shares, "One thing that directors or camera operators will do is have us be in a very awkward position for a long amount of time and without even thinking about how awkward it is for us." The same stand-ins shares, "I've heard of stand-ins locking their knees and fainting."
More gravely, the article includes the anecdotes of a stand-in afraid of heights put on a small balcony on a very windy day; a stand-in uninformed about fire tests done in her immediate vicinity when working; a stand-in working without appropriate eye protection amid breaking prop glass; a stand-in asked to run across a roof; and a stand-in mocked and potentially sexually harassed while working in a vulnerable and compromised position, duct-taped to "a gynaecologist's table" while working.
The article also sheds light on the problem of "handling," as described by stand-in Ben Hauck and as documented on Stand-In Central. From what we can tell, the Empire Magazine feature is the first media outlet aside from Stand-In Central to bring the problem of handling stand-ins to light. Ben reported being handled on set before, an experience in which he reported feeling "violated." The article includes the following description of handling stand-ins:
"[The term 'handling'] basically means laying your hands on a stand-in without their permission and moving them, almost as if they're a prop," Hauck says, "Stand-ins are not props. They're human beings."
Profiled Stand-Ins
Aside from Ben Hauck, the feature profiles stand-ins Ben Hannen, Devon Elora, Kyle Humphrey, Brooke Carrell (a stand-in who worked on the Drew Barrymore film The Stand-In), and Chad Cleven, mentioning several other people who have worked as high-profile stand-ins.
Corrections
Although the article does an effective job of covering the work of TV/film stand-ins, crucially covering many issues experienced by stand-ins in this sometimes opaque job, the article misreports Ben Hauck's age and wrongly implies his first stand-in job. The feature explains Ben "got his break standing in for Leonardo DiCaprio in Martin Scorsese's 2006 crime drama The Departed." This is not true. Instead, Ben stood in for DiCaprio over three days of reshoots for the film, and this was not his first time working as as stand-in.
Appreciation
It is so exciting to see Empire Magazine take an interest in the work of stand-ins and publicize the causes of stand-ins to an audience beyond the reach of this website. (As well as namecheck Stand-In Central!)
We appreciate the work of Amelia Tait and Joanna Moran in the production of this feature.
Order the print version of the issue on GreatMagazines and on Pocketmags!
Did you get to read the stand-ins feature in Empire Magazine magazine? Is there an aspect of stand-in work you appreciate the magazine covered? Share your comments below!